Posted: 18th October 2012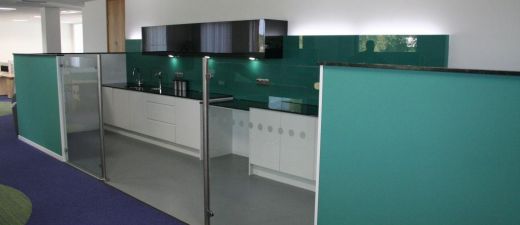 We have just completed work on the new head office in Taunton for the waste management company Viridor.
The Kitchen Company Ltd was asked to supply & fit tea-points on all five floors along with the larger kitchen in the main canteen.
Our client was Turner Dixon-Brown from Environments-For-Business (EFORB) who were appointed to design & project-manage the whole of the interior of the building. EFORB were not looking for simple, run of the mill tea-points only there to serve a purpose. They were looking for more of the 'wow-factor', and we worked very closely with them to try and achieve the vision that they had for this project.
We went with gloss white handle-less style doors on the base units as the crisp and sleek lines instantly gave us the modern look that we were looking for. For the wall units we used a metallic black glass effect door which was completely handle-free using a gas-lift system. Within the design we also needed to provide a drop-down section of worktop for wheelchair access.
The Flash Blue granite brought the whole thing together, but what really set the tea-points off and took them to the 'next-level' were the coloured glass splash-backs. Our client picked out colours from a RAL chart which were different on all the floors, and we had the splash-backs made bespoke to match. Our client also continued the colour themes throughout the floors which really brought the whole building together.
Another feature of the designs was the inclusion of Zip instant boiling taps to all of the tea-points. Instant boiling taps are becoming more & more popular, and are perfectly suited for domestic and commercial environments (can also be more energy efficient than a kettle over a year!!). The main canteen had a larger capacity system to cope with higher demands, and also was upgraded to produce chilled filtered water along with boiling.
Overall the project went extremely well given lead-times for bespoke items & the tight deadline. Our client was very pleased with the end result, which is of course, always our main objective from previous clients who have chosen kitchens from right across our range.